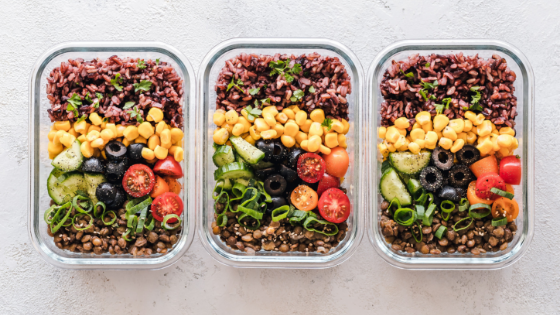 If you're looking for ways to eat healthier, it all starts with meal preparation. Being more prepared when hunger strikes or you're on-the-go can turn your entire diet upside-down (in a good way).
If you're not used to meal prepping or you'd like to improve your "skills" at meal preparation, here are some tips:
Invest In Quality Storage Containers Of All Sizes
Resist the urge to just "use the dishes you have" with some plastic wrap or aluminum foil on top for meal prep. You want sturdy storage containers (ideally made out of glass), and you want every one to have its own durable lid as well. This allows you to go faster during your preparation and to stack your dishes once they're ready for the fridge or freezer.
Designate A "Meal Prep Day."
To keep yourself on track every week, designate a specific day for meal preparation. Start by making a list of all the foods you want to prepare. Next, make a grocery list of what you'll need for each meal.
Once you've finished your grocery shopping, make sure your kitchen is nice and clean and all your dishes are done. Put on a movie or a podcast to make the time go faster, get out your storage containers, and start cooking and prepping!
Don't Make More Than You'll Eat In A Week
You might be tempted to create meals for the entire month, but resist this urge. It's better to stick with the week ahead to ensure that everything remains fresh and enticing.
Choose Foods That Save Well
Whether you plan to store the food you've prepped in the refrigerator or the freezer, make sure you choose the right types of foods. That is, keep in mind that sandwiches and wraps won't store very well in the refrigerator (the bread or wrap tends to get soggy). Salads, meat and rice/pasta dishes, and soups tend to store better.
Similarly, only some foods (such as lasagna or certain soups) store well in the freezer.
Start making delicious meals of your own in your brand-new Phoenix apartment! Floor plans in our Phoenix apartments are currently available. Call our office today to learn more!