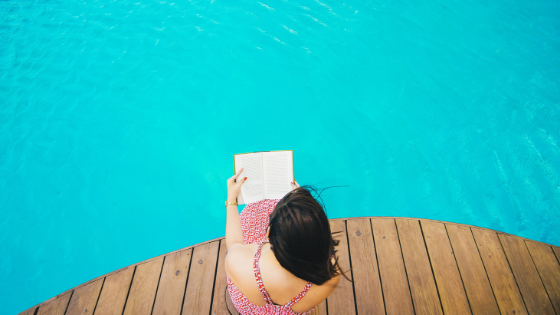 To say that the summer days here get hot would be an understatement — which is why it is almost a necessity for every Phoenix, Arizona apartment complex to include a pool. But here at Element Deer Valley, we go beyond one and offer instead four amazing resort-style pools for our residents to lounge in and alongside. So grab a towel and enjoy a dip, and once you're ready to cool off, consider reading one of the following top summer reads:
4 Must-Read Summer Books Perfect for Poolside Reading
Vintage 1954 by Antoine Lauraine (Translation by Emily Boyce). This has just about all the ingredients one could want in a light yet engaging summer novel: Paris backdrop, wine, clever dialogue, and time travel. It has its funny moments and charm with characters you can't help but fall in love with.
The Perfect Fraud by Ellen LaCorte. Enjoy page-turners? Then you'll love this adventurous novel that has a setting right here in Arizona. This is another fun and light read, must-have elements for beach and poolside reading, but with mystery and two women setting out to right the wrongs.
City of Girls by Elizabeth Gilbert. Did you love Eat, Pray, Love and The Signature of All Things? Then you'll love this next sure-to-be-bestseller by Elizabeth Gilbert and freshly released just in time for summer. This novel is about glamour and adventure through both the viewpoint of a young woman and that same, wiser woman years after looking back, remembering and reminiscing.
The Stationery Shop by Marjan Kamali. This is another newly released novel and one that is already being hailed as a romance on par and by some reviewers even better than the much beloved The Notebook by Nicholas Sparks. So if what you're looking for is a good romance, a good drama, and a good overall tale to read between pool cool-off sessions, then this just might be the perfect summer reading pick for you.
Questions About the Pool and Pool Amenities? Don't Hesitate to Ask
At the Element Deer Valley, we strive to ensure every resident feels at home both in their apartment and on shared grounds. If you have any questions about the onsite pools and other water features, don't hesitate to ask our front desk staff!