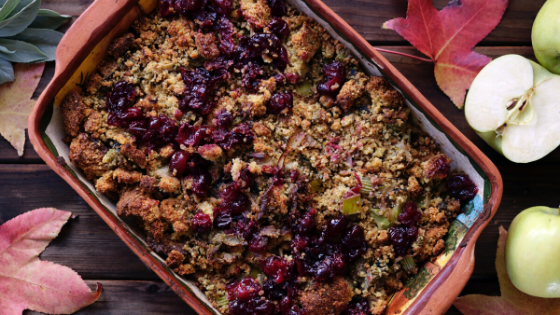 Whether you enjoy stuffing inside your turkey or on the side of the main course, getting it just right makes a huge difference. That's why we hope our Element Deer Valley community members in Phoenix, AZ, find these holiday stuffing tips delightful.
How to Keep Your Stuffing Moist
It may seem counterintuitive, but some home chefs avoid cooking their stuffing inside the turkey. That's because certain things can go awry. The first thing has to do with food safety. Stuffing must reportedly reach a minimum temperature of 165 degrees. By the time the center of the big bird achieves that heat, the turkey could be overcooked. It's a safer bet for the overall meal to be delicious to cook and keep the holiday stuffing as purely a side dish. You will have greater control over the moisture.
Avoid Excessive Stuffing Seasoning
One of the critical errors that home chefs make is trying too hard to create stuffing flavor. If you make your stuffing from scratch, it's important to remember that you can always add a pinch of pepper, garlic, or herbs near the end of the process and blend it into the mixture. You cannot take out too much seasoning. It may be prudent to under-season your stuffing and get a little input before making the final touches. Another thing to remember is that pre-packaged stuffing tends to be at the maximum seasoning level. Be very cautious about adding to store-bought mixes.
Use Turkey or Meat Broths
Unless you are planning to stuff the bird, there's no reason to start the stuffing early in the process. While stuffing remains an enticing item to conjure up, be patient, and wait until your turkey or main protein is ready. By waiting until the bird or meat comes out of the oven, you will enjoy unfettered access to the liquid. This broth is often rich in flavor and amps up your stuffing foundation.
Use Strategic Ingredients
There is no end to the flavorful items you can incorporate into the stuffing. But it's also important to be cautious and include things most guests and loved ones will enjoy. People infuse stuffing with sausage, veggies, marshmallows, and all kinds of fun flavors. It may be in your best interest to poll guests about what they like. You can always make sides that people can blend into the stuffing right on the plate.
We hope our Element Deer Valley residents find these stuffing tips useful. If you or a friend would like more information about our Phoenix apartments, call us today.