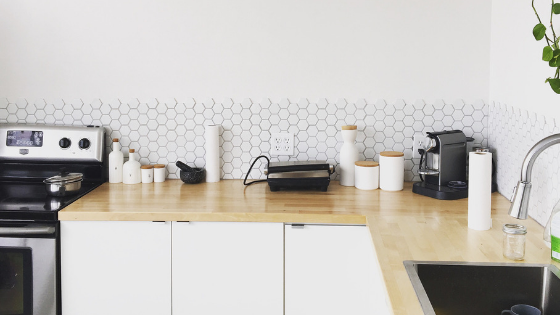 Are you tired of walking into your kitchen and feeling overwhelmed by all the clutter? We understand that residents of our Element Deer Valley apartments in Phoenix, AZ might need a little help getting it in order. That is why we are providing you with a few tips to get you started. Hopefully, that puts you on the path to getting everything in its proper place.
Fill Empty Spaces
Look around for oddly shaped empty spaces in places like above your refrigerator or in corners. You can use them to add storage elements like stackable bins. That is a great way to store your extra coffee mugs or other oddly shaped containers that don't quite fit into your cabinets with the rest of your dishes.
You can also create a place to store items like mail or other important papers. Hanging baskets are a great way of storing these types of loose items. That way they are not spread around your counters and kitchen table. Get even more organized by labeling your baskets to hold specific paperwork.
Tackle the Fridge
It is amazing how a clean refrigerator can make your kitchen feel that much neater. Do the following to ensure you have a clean, organized fridge in the end.
Refrigerator Cleaning Tips
Toss anything old or molding
Check expiration dates on items like milk or juice
Set your temperature controls to optimal levels
Take out any remaining food items and give the inside of your fridge a thorough wipe down
Organize items by type when placing them back in the refrigerator
Place the most frequently used items in front
We also recommend adding a box of baking soda to keep things fresh.
Rearrange Your Cabinets
Changing the order of your dishware can stop items from falling out when you open the cabinets. Start by pulling everything out and taking stock of what you own. We recommend throwing away any cracked or stained items. Put the dishes you use most on the shelves that are easiest to access.
Restack your dishes by placing larger items on the bottom to help with balance. You should also put every other glass in your cabinet upside down to maximize space.
We hope these ideas allow you to start moving away from the clutter in your kitchen. Contact the Element Deer Valley staff at any time with any questions about your Phoenix, AZ apartment by calling (866)367-3402.