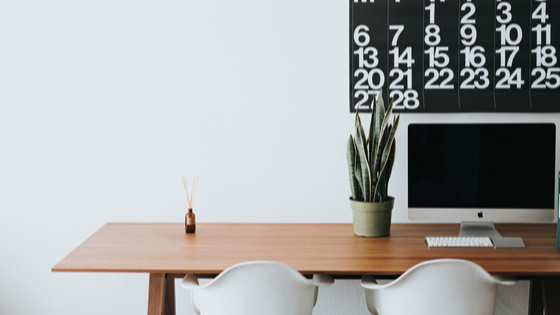 If you work from home (or if work sometimes follows you home) it's crucial to have a designated workspace. When guests come calling, on the other hand, a gigantic sit-to-stand desk covered with papers, staplers, and hole punchers doesn't exactly generate a festive mood. The gold standard for apartment dwellers who work from home is to add a workspace without making your apartment feel too much like the office.
Visitors should walk into your living space, and everything their eye falls on says "home." Here are three tips from your friends at the Element Deer Valley to add a home office without compromising the living space of your Phoenix apartment.
Invest in a Stealth Desk
Ingenious, affordable desks like the Suave Floating Desk by Latitude Run mount on the wall and fold down from an unassuming cabinet into a useful desk. The fixture even doubles as shelving to display plants, photos, and knickknacks. PRO TIP: Select a comfortable dining or club chair that you can roll or slide into position. An ergonomic office chair will stick out like a sore thumb.
Build an Office Into the Closet
If your clothing does not take up a lot of space, a wall or walk-in closet makes a perfect place to conceal a desk. You can build shelves to store office supplies, or just use hanging nylon or canvas closet organizers! Need your walk-in space? Even a coat closet can host a cozy desk. Screw some coat hooks into the wall for guests' coats. Just close the closet door on your discreet office at quitting time.
Storage, Storage Everywhere
Just about any piece of attractive, non-office-y furniture could conceal your office supplies, keeping them close at hand while you work at the kitchen table, coffee table, or breakfast bar. Examples include storage ottomans, storage benches, and floating hutches.
Try any one of these strategies to outfit a welcoming, relaxing home with a secret workspace. Contact the team at the Element Deer Valley to discover more tips on how to add a discreet home office to one of our beautiful, upgraded apartments in Phoenix, AZ!